Most people arrive in Hell by the ferry.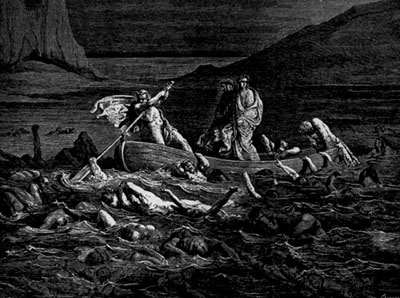 The River Styx is Hell's main waterway and principal thoroughfare, linking most of Hell's cities with its never-ending stream of traffic, human and inhuman, living and undead. Its awesome grandeur leaves a lingering impression on every visitor, and with good reason. Upstream is the administrative centre, Mephistophelopolis, which as a newcomer you will most likely be making your first port of call. You will not fail to be impressed by the way Hell's millions of daily arrivals are processed there, because Mephistophelopolis has a bureaucracy which is the envy of the Universe.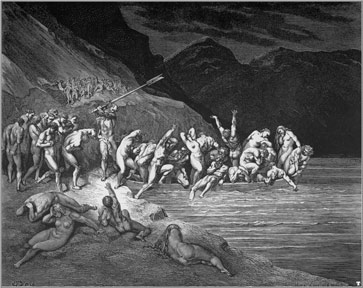 After you collect your papers, residential allocation and activity programme, your journey may take you along Hell's most scenic river. Only slightly shorter than the Styx, by a few thousand miles, is the Acheron, with its main tributary the Cocytus, the famous 'stream of wailing' of Greek legend, which has its source in Lake Avernus where you'll find the popular beach-resort of the same name. The Acheron, as it rushes at thrilling speed through the incredible gorges of Abaddon, is ideal for black-water rafting. Amid the majestic scenery of some of the deepest cliffs in Hell, many find relaxation in back-packing and rock-climbing. Countless more come to admire the falls as the river drops several hundred miles into the valley of Tartarus below - said to be as deep under Hades (the former capital city, now entirely given over to time-share apartments) as Earth is below Heaven. For those not content simply to stand and stare, there's the ultimate bungee-jump. It's free, and it's the quickest way to Tartarus.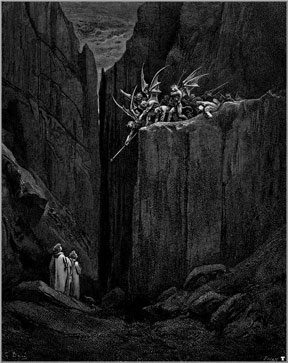 Tartarus is the retreat of many ancient celebrities, most of whom earned their distinction by seriously upsetting Zeus. Feeding-time for the giant eagle at Prometheus' Rock is always a popular spectacle with visitors.

In Hell, work and play go hand in hand. At year-ends during the hot season, the beaches of the lake resort of Avernus are literally packed with holiday-makers, who travel thousands of miles on Hell's three-level, twelve-lane motorways, just to be there for a few hours.

For those who prefer culture to simply lying around on the beach, there's no end of places to go and things to do. Take one of our special excursion trains to Erebos, for example: Erebos University holds regular public discussions among its many agnostic philosophers - or if you prefer, there's Sheol, with its famous School of Atheism. For those who like the cut-and-thrust of political life, Dystopia is home to the movers and shakers, the visionaries and social engineers who made history in their lifetimes - even if they never managed to create the new world order they intended! Designed mainly by Albrecht Speer and LeCorbusier, this planned New Town draws celebrities such as Mao Tse-Tung, Pol Pot, Adolf Hitler, Genghis Khan, Josef Stalin, Napoleon and Ivan the Terrible. We are justly proud of our Living History.

Tophet, the City of Dreaming Spires (or Screaming Pyres), boasts no fewer than one hundred and forty-four thousand different theological colleges and ashrams, each with its libraries containing millions of spiritual works - books, tracts, pamphlets and commentaries. If religious zeal is your bent, then Tophet is a must. Here, you can witness John Calvin and Don Tomas de Torquemada attempting to convert each other in a centuries-long debate. Other world-famous alumni include Grigori Rasputin, Caliph Hakim and Matthew Hopkins.

Dis, with its shopping-malls and discos, has something for everyone: relax in one of the many bars and try a Snakebite or a Boilermaker, Hell-style! Or sample our traditional or new cuisine, both of which literally defy the imagination.
Ever wondered what an ancient Aztec sacrifice was really like? Or the games at the Roman Colosseum? Or to take part in a famous battle? No problem – an endless series of historical pageants and re-enactments are laid on here to instruct and entertain.

For the environmentally-conscious, the recycling plant at Gehenna has to be seen to be believed. Alternative energy sources are provided by Hell's many geothermal bores. Every natural resource is harnessed for the benefit of all (except, of course, sunlight - but Hell has its artificial suns - state-of-the-art fast-breeder fusion reactor infernostationary satellites). Then again, if the sultry heat and the bright lights of the city aren't for you, you can always "chill out" on the arctic tundra of Niflheim, where the air is almost crystalline in its clarity, and wander among the scintillating algae that cling to the rocks. Or you can experience the total silence of Ultima Sheol, where even the logical positivists have given up arguing.

Hell is truly rich in natural wonders. There's the River Phlegethon, affectionately known as 'Old Scorcher', which self-ignites regularly every few hours, sending a multicoloured incandescent glow into the upper regions which can be seen for hundreds of miles and which has been compared to the Aurora Borealis. Situated in splendid majesty on its own island in the middle is Pandemonium, Hell's ancient capital city, where most demons go for entertainment when they are off-duty. Then there's the River Lethe, on the upper reaches of which is the spa-town, famous for its waters, also called Lethe (not to be confused with Leith, which is near Dunfermline).

We lovingly preserve the past, yet stride boldly into the future, too. Hell, though full of millennia of art and culture, is also a vibrant place of economic activity and completely self-sufficient in everything - our only import is souls, our only export, temptation. As a newcomer, you will witness with amazement the bauxite refineries, steel foundries, nuclear power plants, cement quarries, assembly-plants and uranium mines, that guarantee full employment to all Hell's citizens and provide the materials for our never-ending programme of reconstruction.

So whether you've come for the bustle of the narrow, winding streets of Hades, with its astonishing medieval architecture and ancient arts and crafts, or for the breathtakingly futuristic vision of Dystopia and its cutting-edge technology; for organised group activities or solitary contemplation; for endless plains, unspoilt teeming jungles, vertiginous craggy mountains and yawning abysses topped by fortresses and palaces of awesome grandeur, or for cities that never sleep - Hell is the place for you!


The Lord Belfagor, Director of Public Relations
Topologia Infernae by Nick Ford, Consultant Eschatologist. © 2004 Illustrations by Gustav Dore