Watch our Blu-Tack® ad pitch featuring Imps!
and introducing Skwits in
'Skwits: Head Splatter'
We do training for Web & print...
Imps! title theme by Glenn Tilbrook of Squeeze
featuring music by Nick Harper
Reviews and ratings of the top Australian online casinos createdbycarignan.com for 2018. Play at the best Australia online casino sites.
Characters Scenery 3D CGI
Graphic Subtitles Links
plots & notes | Welcome to Hell
valued books | animation software
Watch Jamie's one minute Lego animation
'Automated' - winner of the Ray Harryhausen
competition at the British Film Museum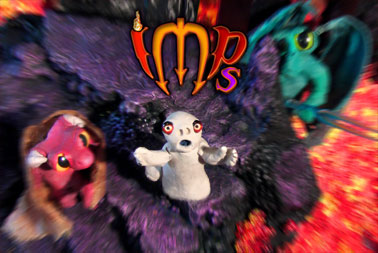 Dan and a lurking Bully

Explore the underworld with Hiero the satyr and Dan, a damned soul.
Bullied by imps, Hiero longs to escape Hell as much as Dan, whose accident has been mistaken for suicide.
Their adventures take them through the realms of Dante's Inferno, via the Hades of the Greeks and Romans to the underworld of the Pharaohs and strange animal-headed gods.
Can they escape, avoid recapture and achieve redemption?
Development partners and funding are sought.

Imps! is created using a combination of Blu-Tack / plasticine / sculpey stop-motion and computer generated animation.